Quiet the Noise (Listen to the Data):
Below you will find a "temperature reading" on the market and the risk level on the "field."
Relative Strength Line Up of the Asset Classes:
Q2:  Unchanged from last quarter


1/15/2013:  (All Unchanged since 3Q 2013)
#1 Asset Class:  Domestic Equities
#2 Asset Class:  International Equities
Market Status:  BULL
NYSE Bullish Percent:  62% OFFENSE (Reversed up from Defense on 2/24/14)
---
April Showers Bring May Flowers?
You may recall in Q1's commentary that I shunned the idea of predicting what 2014 held for investors yet I touched on the leadership of Domestic Equity, or "stocks" and further added that nearly 75 percent of all stocks trading on the New York Stock Exchange were in a positive trend and that all of the major equity indices were trading with positive trends, which were all positive signs for the market. Well, NOT MUCH HAS CHANGED.  But, it doesn't feel that way, does it?
While we do have clarity that January/February's activity was indeed an "Exhale" and NOT a "Correction" as most of the media would've had you believe and we have also seen the 75% stat above on the NYSE Bullish Percent Index reverse down and back up to OFFENSE as of February 24th and now sits at a still healthy level of 62% vs. 75% of all stocks on the NYSE trading with a positive trend.  This is what an "Exhale" looks like.  And markets today indicate another Exhale may be in store.
Thankfully, as of April 8th, despite recent volatility, we are still close to major market index highs (Dow, S&P) with the Dow still over 16,000 and the S&P 500 above 1,800 with all of Aphavest's Models posting gains YTD 2014.  Will April's showers bring May flowers?  We hope so.
In the interim, with a continued emphasis in Domestic Equities, small-cap holdings, in particular, and Developed International holdings, we continue to operate in our most Bullish Model (#1 and #2 Asset Spots occupied by EQUITY categories; Domestic and International Stocks).
Our indicators, while on Offense at the moment, may be hinting of headwinds coming our way.
What will we do if headwinds are ahead?  What we always do, manage assets by the RULES and by the DATA and not the NOISE.  You can count on an update and appropriate asset shifts when our indicators give us any major "leadership" changes (IE: the changing of the baton from Domestic Equity or International Equity being in the #1 and #2 asset class spots.)
My challenge continues:  to ensure that 100% of our clients GET our "follow the leadership" philosophy. Let us know how we are doing! If you have any questions about the particulars of your portfolio, or would like to discuss the potential opportunities that I have seen arise within the equity market, please click here to email me  and let's connect!  
We have one rocky quarter behind us and a long road ahead—let us know your thoughts and comments, but remember:  We have you MANAGED!
---
Alphavest.com gets a Facelift!
Check out our new website and our enhanced Investment Model offerings!  In response to our 401k clients, Red Triangle/Alphavest rolled out 10 new Models for clients to choose from.  The good news is that the Models are available to everyone.
"CHOOSE FROM?," you may ask.  Yes.  Some clients, (99.9% are 401k investors) prefer to have options and have a "say" in their account allocation.  Most clients choose Red Triangle/Alphavest because they prefer Cokie to choose for them.  Have no fear—this hasn't changed.
The Models, whether you decide to do some picking yourself, will enhance all clients' performance, we are confident.
The New Model Line Up:
Best of Buffett
Defensive Strategy
Long/Short
Globe Trotters
Dogs of the Dow
Dividend Yield
Healthcare
REITs
Analyst Upgrades
Ivy Leaguers
Information on all the models can be found on the Alphavest website, or by emailing us.  Thank you for your feedback and comments as we strive to serve all of our clients needs!
---
Rules Quarterly
Some ask, "What makes Red Triangle or Alphavest's investment philosophy so different?" Or, "If you were to offer 1 thing investors should do to succeed…." and the answer is RULES.
I want to demystify the noise for investors and and help them break free from Wall Street's games.  One way to do this, beyond lowering fees and eliminating conflicts of interest is to abide by a rule-based, not an emotion or ego based investment methodology.
At Red Triangle/Alphavest that's what we do: FOLLOW THE RULES.
Rules Quarterly:
Previous – Rule #2:  Cash/Offense-Defense NYSE Bullish Percent (Q1 2014 to review click here)
Current – Rule #3: IF: An Asset Class (bonds, equities, commodities, currencies) is underperfoming CASH…THEN: DON'T invest in it.
In today's terms this Rule applied means, don't own commodities in your portfolio, AKA the commodity du jour:  GOLD)
Our friends at Dorsey Wright & Associates publish, daily, the relative strength of the Asset Classes listed above visa vie how they are performing to Cash.  Here's what the line up looks like right now, in order of #1 Performing to #6/worst performing: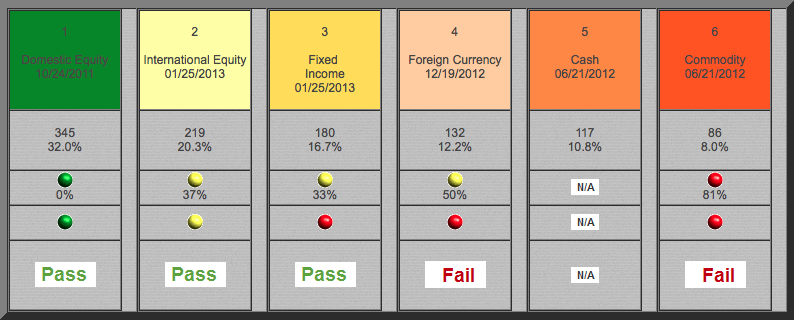 Again, what does this mean right now? BE VOID ALL COMMODITIES IN YOUR PORTFOLIO.  AKA:  GOLD, amongst others.
How has this worked since Commodities traded places with Cash in the line-up to become the worst performing sector or  #6  on 6/21/2012? Gold is down over 15% since then, matched to the S&P being up over 26% over that same time frame….this is a more than 50% difference in performance. While the Gold/commodity scene is currently improving, it is still performing below cash, so we are VOID.  Honor risk above return and don't break Rule #3.
Rule #3 is a simple as V-O-I-D.  Don't subscribe to the buy all the market so as to be diversified; the days of the Modern Portfolio Theory pie charts are OVER.  If an asset is performing worse than cash, why own it?  Be VOID assets that don't perform better than cash and/or are in last place on the Asset line up.
Stay tuned for Rule #4 next quarter.
---
Subscribe to Cokie's Blog for more frequent updates on Markets and Matters….
Most of my blogs are less than 200 words—short and sweet!  I have 2 weekly posts one is uber- short and the other highlights our Investment Management "Rules" with one Rule detailed each week.
Q1 Most Read Blogs:
Transition To Retirement Strategy: 3 Simple Tips
Mid-Quarter Update: Exhale or Correction? Part II
---
Join the Liberated Investor Movement TODAY!
Red Triangle's Investment Management division, Alphavest, launched the Liberated Investor Movement in an effort to educate investors on how to break free from being held hostage by "Big Brokerage."
The Liberated Investor Tool Kit exposes five areas of the investment management industry where the deck is stacked against investors and offers simple and direct advice; Excessive Fees and What Can Be Done About Them, The Myth of Buy and Hold, The Emotion Behind Market Timing, Industry Conflicts of Interest and How to Hire An Advisor That's On Your Side.
Download the Tool Kit today and share with your Facebook community and friends and family—join the Liberated Movement!
The best way to refer us?  Tell others to download the FREE The Liberated Investor Tool Kit.