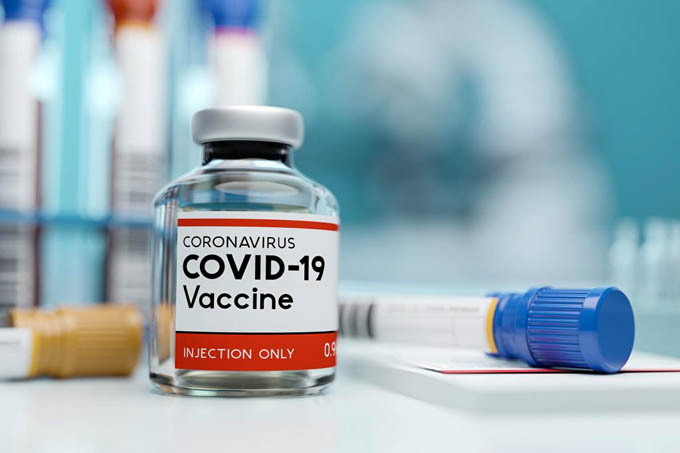 A Note from Cokie: President Joe Biden inherited an economic recovery that continues to be challenged by the pandemic and a suffering labor market.

The latest numbers show that the virus continues to constrain the U.S. rebound. Business restrictions to curb the spread initially helped those who found themselves in a jobless situation. Still, the drag from Covid-19 restrictions is only intensifying the nation's recovery. But Bloomberg Economist Eliza Winger says, "The risk of the economy sinking back into a recession is low and another round of proposed fiscal relief package is lifting growth prospects."

The relief package which was approved in December plus Biden's request for $1.9 trillion in additional aid should help as we wait for the vaccine to be distributed nation wide. But even with this effort, indicators continue to show just how far we are from a full recovery.

If you are a small business owner and need financial advice, please schedule a free "peace of mind" consultation with me. Or if you are having difficulty when you look at your portfolio, schedule a free 15-minute consult and checkup!

As I said last week: Knowledge is powerful! Let me help you understand what is on tap for this coming year and how to navigate through this time! The following is a weekly update from Wealth Enhancement & Preservation.

The Week on Wall Street Shrugging off COVID-19 infections and the disruption at the Capitol on January 6, stocks powered higher to kick off a new year of trading. The Dow Jones Industrial Average gained 1.61%, while the Standard & Poor's 500 increased by 1.83%. The Nasdaq Composite index, which led throughout 2020, picked up 2.43%. The MSCI EAFE index, which tracks developed overseas stock markets, rose 1.45%.[1][2][3]
Fireworks to Start the New Year Stocks got off to an inauspicious start amid the stuttering pace of vaccine distribution and concern that the economic recovery might take longer than anticipated. Uncertainty over the looming Senate runoff election in Georgia added to the broad retreat that marked the first day of 2021 trading. From there markets turned higher, aided by firming oil prices with subsequent support provided by the Georgia Senate election results, which lifted hopes of additional fiscal stimulus. Stocks managed through political unrest mid-week, with banks, economically sensitive stocks, and technology shares leading the way. The yield on the 10-year Treasury rose above 1% for the first time since March as investors fled bonds in anticipation of new federal borrowing.[4]

Stocks touched all-time highs on the final trading day, capping a strong week of performance.[5]

Employment Picture The U.S. economy lost 140,000 jobs in December, confirming fears of economic slowdown brought on by a resurgence of COVID-19 infections. Not surprisingly, it was restaurants and bars that saw the greatest job losses, with the larger hospitality sector accounting for nearly all the job losses last month. Meanwhile, November job creation was revised upward, from 245,000 to 336,000.[6]

To help put the pandemic in perspective, December's job report capped the worst year for job losses since the tracking began in 1939. The unemployment rate remained unchanged at 6.7%.[7]

THIS WEEK: KEY ECONOMIC DATA
Tuesday: Job Openings and Labor Turnover Survey (JOLTS).
Wednesday: Consumer Price Index (CPI).
Thursday: Initial Jobless Claims.
Friday: Retail Sales, Consumer Sentiment, Industrial Production.
Source: Econoday, January 8, 2021 The Econoday economic calendar lists upcoming U.S. economic data releases (including key economic indicators), Federal Reserve policy meetings, and speaking engagements of Federal Reserve officials. The content is developed from sources believed to be providing accurate information. The forecasts or forward-looking statements are based on assumptions and may not materialize. The forecasts also are subject to revision.

THIS WEEK: COMPANIES REPORTING EARNINGS
Tuesday: KB Home (KBH)
Thursday: Blackrock (BLK)
Friday: JPMorgan Chase (JPM), Citigroup (C), PNC Financial (PNC)

Source: Zacks, January 8, 2021 Companies mentioned are for informational purposes only. It should not be considered a solicitation for the purchase or sale of the securities. Investing involves risks, and investment decisions should be based on your own goals, time horizon, and tolerance for risk. The return and principal value of investments will fluctuate as market conditions change. When sold, investments may be worth more or less than their original cost. Companies may reschedule when they report earnings without notice.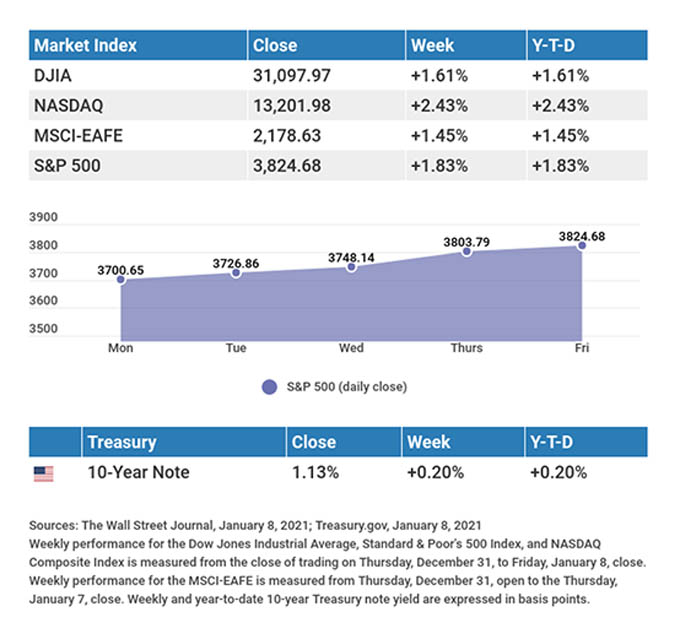 [1] The Wall Street Journal, January 8, 2021
[2] The Wall Street Journal, January 8, 2021
[3] The Wall Street Journal, January 8, 2021
[4] The Wall Street Journal, January 6, 2021
[5] CNBC, January 8, 2021
[6] The Wall Street Journal, January 8, 2021
[7] The Wall Street Journal, January 8, 2021