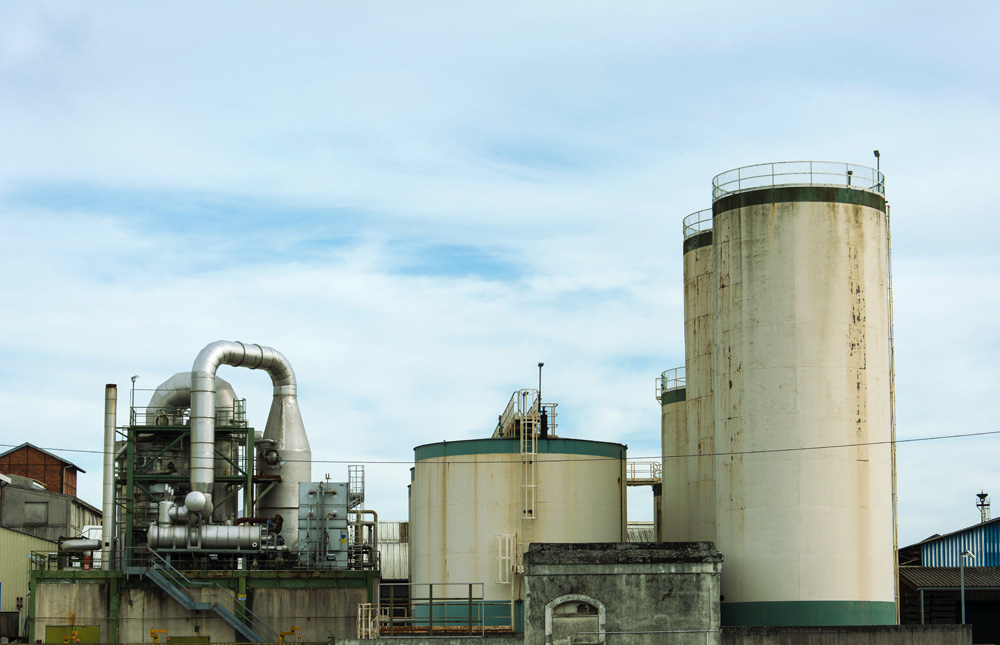 The Week on Wall Street
From Cokie — The shell-shock continues over the extreme drop in oil prices. In fact, U.S. oil futures posted a record loss of almost 25% on Monday as concerns grow over the adequate storage of crude. This sent the June contract to its second-lowest settlement on record.
Here's the latest update from Wealth E&P: Stock prices bounced around last week as investors reacted to wild swings in the price of oil and reports that called into question the efficacy of two potential virus treatments.
The Dow Jones Industrial Average retreated 1.93%, while the Standard & Poor's 500 lost 1.32%. The Nasdaq Composite Index slipped 0.18%. The MSCI EAFE Index, which tracks developed overseas stock markets, declined 1.21%.[1][2][3]
Oil Wavers, Promising Virus Treatments Disappoint
Stocks opened the new week lower on the heels of a plunge in oil prices that saw the May oil futures contract fall into negative territory. While negative prices were largely reflective of technical issues associated with trading the contracts rather than the actual price of oil, the unprecedented move unsettled investors.
Stocks found some positive momentum as the week wore on, buoyed by corporate earnings reports that showed solid performance amid a challenging environment.
On two separate days, however, solid moves to the upside were derailed by disappointing news on promising COVID-19 treatments. One drug failed to produce positive results in its first trial, followed the next day by an FDA warning against taking chloroquine and hydroxychloroquine to treat COVID-19. Stocks managed to rally and trim the week's losses during the market's final hours on Friday.
The Economic Reopening Begins
States across the nation, including Georgia, Tennessee, South Carolina, and Texas, have begun the process of slowly reopening commerce, while Montana's governor announced the first phase of restarting its economy.[4][5]
Each state is taking a different approach, potentially serving as a laboratory to help guide other states in their efforts to reopen businesses. From the market's perspective, these early steps are not only hopeful signs that the journey to normalization may have begun, but they may provide important clues to how quickly business activity can rebound and the degree to which individuals resume social engagement – two important metrics that may influence the market in the weeks ahead.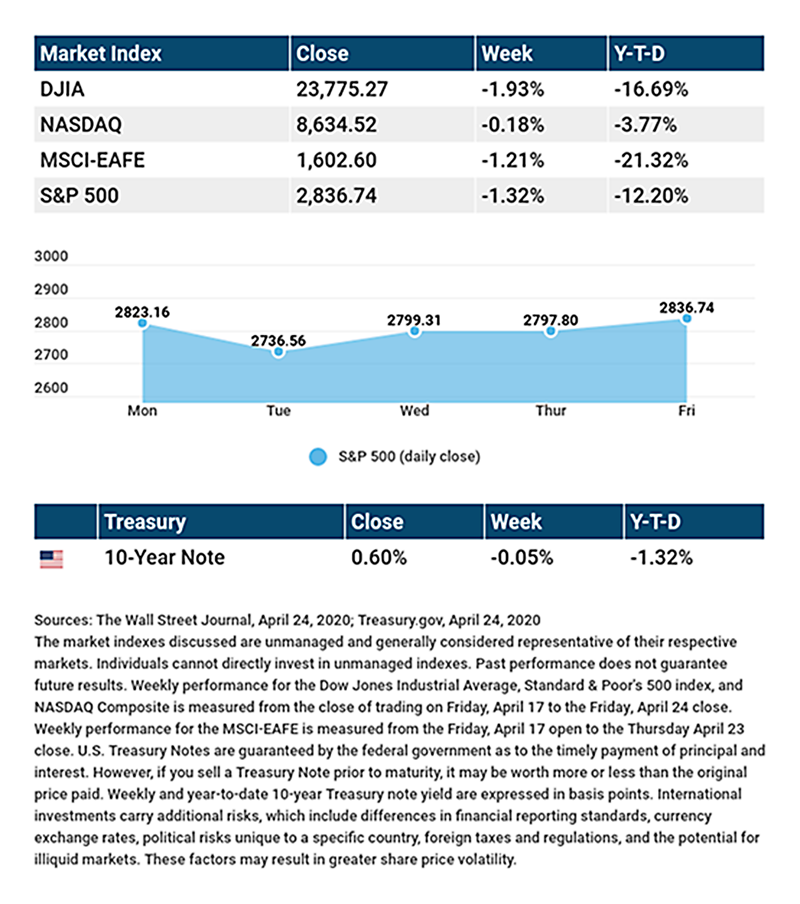 Investing involves risk including the potential loss of principal. No investment strategy can guarantee a profit or protect against loss in periods of declining values. Diversification does not guarantee profit nor is it guaranteed to protect assets. International investing involves special risks such as currency fluctuation and political instability and may not be suitable for all investors.

The Standard & Poor's 500 (S&P 500) is an unmanaged group of securities considered to be representative of the stock market in general. The Dow Jones Industrial Average is a price-weighted average of 30 significant stocks traded on the New York Stock Exchange and the NASDAQ. The DJIA was invented by Charles Dow back in 1896. The Nasdaq Composite is an index of the common stocks and similar securities listed on the NASDAQ stock market and is considered a broad indicator of the performance of stocks of technology companies and growth companies. The MSCI EAFE Index was created by Morgan Stanley Capital International (MSCI) that serves as a benchmark of the performance in major international equity markets as represented by 21 major MSCI indices from Europe, Australia, and Southeast Asia.The 10-year Treasury Note represents debt owed by the United States Treasury to the public. Since the U.S. Government is seen as a risk-free borrower, investors use the 10-year Treasury Note as a benchmark for the long-term bond market. Opinions expressed are subject to change without notice and are not intended as investment advice or to predict future performance. Past performance does not guarantee future results. You cannot invest directly in an index. Consult your financial professional before making any investment decision. Fixed income investments are subject to various risks including changes in interest rates, credit quality, inflation risk, market valuations, prepayments, corporate events, tax ramifications and other factors. These are the views of Platinum Advisor Strategies, LLC, and not necessarily those of the named representative,Broker dealer or Investment Advisor and should not be construed as investment advice. Neither the named representative nor the named Broker dealer or Investment Advisor gives tax or legal advice. All information is believed to be from reliable sources; however, we make no representation as to its completeness or accuracy. Please consult your financial professional for further information.
Sources
[1] The Wall Street Journal, April 24, 2020. The market indexes discussed are unmanaged and generally considered representative of their respective markets. Individuals cannot directly invest in unmanaged indexes. Past performance does not guarantee future results. The return and principal value of investments will fluctuate as market conditions change. When sold, investments may be worth more or less than their original cost.
[2] The Wall Street Journal, April 24, 2020. The market indexes discussed are unmanaged and generally considered representative of their respective markets. Individuals cannot directly invest in unmanaged indexes. Past performance does not guarantee future results. The return and principal value of investments will fluctuate as market conditions change. When sold, investments may be worth more or less than their original cost.
[3] The Wall Street Journal, April 24, 2020 [4] US News & World Report, April 21, 2020 [5] US News & World Report, April 22, 2020
[4] US News & World Report, April 21, 2020
[5] US News & World Report, April 22, 2020