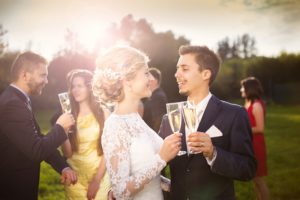 Getting married this summer? After you've tossed the bouquet, eaten the cake and written the thank-you notes, it's time to think about how your marriage may affect your tax situation. The IRS offers these tips to help newlyweds in their tax planning:
Report changes in:
Name: When your name changes through marriage, it is important to report that change to the Social Security Administration. Your name on your tax return must match what is on file at SSA. If it doesn't, it could delay your refund. To update your information, file Form SS-5, Application for a Social Security Card. It is available on SSA.gov, by calling (800) 772-1213, or at a local SSA office.
Address: If your marriage means you have moved, the IRS and U.S. Postal Service need to know. To do that, send the IRS Form 8822, Change of Address. Notify the postal service by going to USPS.com or a local post office.
Consider changing withholding: Newly married couples must give their employers a new Form W-4, Employee's Withholding Allowance Certificate, within 10 days of the marriage. If both of you work, you might move into a higher tax bracket or be affected by the Additional Medicare Tax. Use the IRS Withholding Calculator at IRS.gov to help complete a new Form W-4. See Publication 505, Tax Withholding and Estimated Tax, for more information.
Decide on a new filing status: Married people can choose to file their federal income taxes jointly or separately each year. While filing jointly typically is more beneficial, figure the tax both ways to find out which works best for your situation. Remember, even if you married on Dec. 31, for tax purposes, the law says you are married for the whole year.
Choose the right tax form – it could help save money. Newly married taxpayers may find they now have enough deductions to itemize them on their tax returns. Newlyweds can claim itemized deductions on Form 1040, but not on Form 1040A or Form 1040EZ.
Other details may apply, and you can find more information on the IRS website.
* This information is not intended to be a substitute for specific individualized tax advice. We suggest you discuss your specific tax issues with a qualified tax adviser.