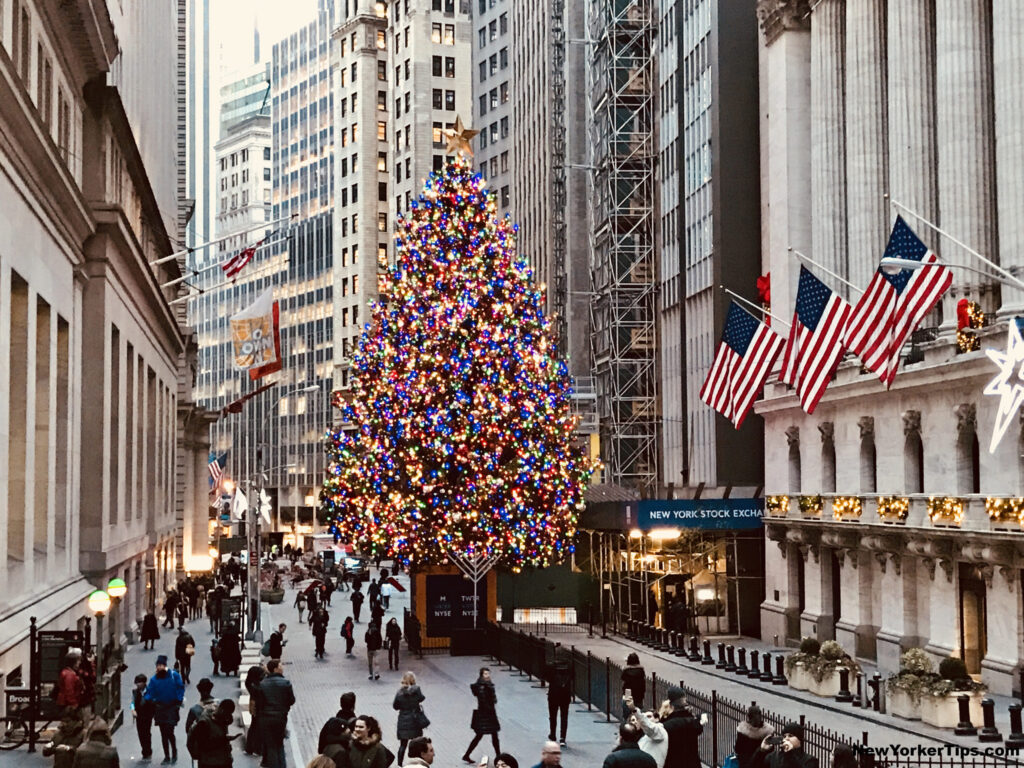 A Note from Cokie: Despite some states issuing more temporary lockdowns, the market is holding strong. Plus the rollout of the vaccine is signaling hope signs to Wall Street but my Alphavest clients know that we are way ahead of the Wall Street game.

With word of a stimulus package and despite the president's desire to increase the amount Congress agreed on, US stock futures are high. So for now, markets seem to be holding and no one is ready to press the sell button. The situation needs clarification.

This does leave traders watching to see what the President does next. If he does not sign the stimulus plan, investors may move to selloff shares — especially given the ongoing anxiety about the January election and the news from the United Kingdom of a new coronavirus variant that could be more contagious. So, stay safe, stay tuned for more updates, and let me know if you need to talk! You know how to reach me. Schedule a free consult! The following is a weekly update from Wealth Enhancement and Preservation.

The Week on Wall Street Stocks climbed higher amid the COVID-19 vaccine rollout and an improving outlook for a fiscal stimulus bill. The Dow Jones Industrial Average, which has lagged all year, gained 0.44%. The Standard & Poor's 500 picked up 1.25% while the Nasdaq Composite index surged 3.05%. The MSCI EAFE index, which tracks developed overseas stock markets, rose 2.44%.[1][2][3]
Stocks Climb Higher In a week that celebrated the national rollout of a COVID-19 vaccine, market enthusiasm was tempered by worries of infection caseload and fresh economic lockdowns.

Investors turned their focus to the fiscal stimulus negotiations in Washington, D.C., with the hope that a relief bill may be the bridge that gets the economy over its near-term troubles until vaccine distribution grows more widespread. These negotiations were not smooth sailing. When a compromise bill appeared to gather support, markets quickly moved higher, with the Dow Jones Industrial Average, S&P 500, and Nasdaq Composite all setting new record high closes on Thursday.[4] Stocks slipped in the final day of trading as stimulus hopes wavered.

Fed Outlook on Economy Improves The Federal Reserve on Wednesday concluded its last meeting of the Federal Open Market Committee for 2020. Fed officials provided more detail for its monthly bond purchase program and reiterated their commitment to a monthly purchase of $120 billion of Treasury and mortgage-back securities until its inflation and employment goals are met.[5]

The Federal Reserve also raised its outlook on the U.S. economy. It revised its September forecast of a 3.7% decline in GDP in 2020 to a 2.4% decline, and increased its 2021 GDP growth forecast from 4.0% to 4.2%. It also expects unemployment at 2020 year-end would fall to 6.7%, substantially lower than its earlier estimate of 7.6%.[6]

Final Thoughts Our weekly market commentary will not be published next week. We would like to take this moment to wish you and your family a safe and joyous holiday season.

THIS WEEK: KEY ECONOMIC DATA
Tuesday: Gross Domestic Product (GDP), Consumer Confidence, Existing Home Sales.
Wednesday: New Home Sales, Consumer Sentiment.
Thursday: Durable Goods Orders, Jobless Claims. Source: Econoday, December 18, 2020 The Econoday economic calendar lists upcoming U.S. economic data releases (including key economic indicators), Federal Reserve policy meetings, and speaking engagements of Federal Reserve officials. The content is developed from sources believed to be providing accurate information. The forecasts or forward-looking statements are based on assumptions and may not materialize. The forecasts also are subject to revision.

THIS WEEK: COMPANIES REPORTING EARNINGS
Tuesday: Cintas Corporation (CTAS), Carmax, Inc. (KMX)
Wednesday: Paychex, Inc. (PAYX) Source: Zacks, December 18, 2020 Companies mentioned are for informational purposes only. It should not be considered a solicitation for the purchase or sale of the securities. Investing involves risks, and investment decisions should be based on your own goals, time horizon, and tolerance for risk. The return and principal value of investments will fluctuate as market conditions change. When sold, investments may be worth more or less than their original cost. Companies may reschedule when they report earnings without notice.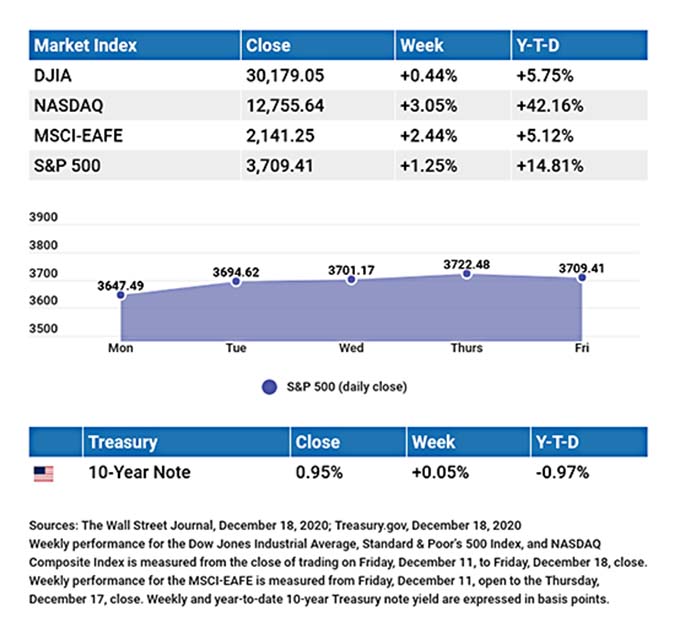 [1] The Wall Street Journal, December 18, 2020
[2] The Wall Street Journal, December 18, 2020
[3] The Wall Street Journal, December 18, 2020
[4] CNBC, December 17, 2020
[5] The Wall Street Journal, December 16, 2020
[6] CNBC.com, December 16, 2020