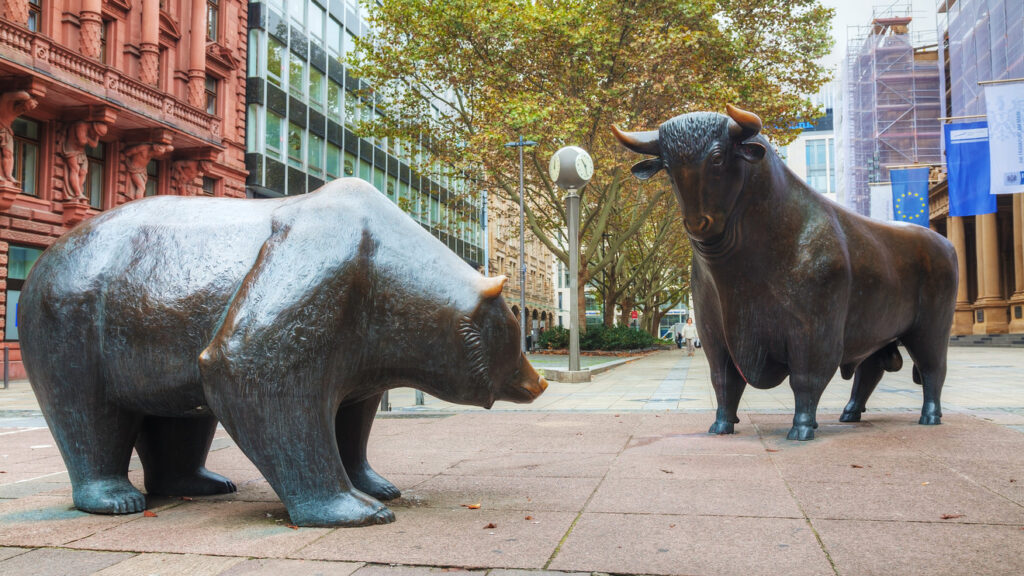 A Note from Cokie: Yesterday, U.S. stocks jumped building on a strong rally in the previous session. This comes as concerns about a speculative retail trading trend continues to ease. This is good news! Plus, the market remains strong despite the country's continuing battle with Covid.

Alphavest Liberated Investors know the truth and also know where they are heading for the future.

They also want—
• Peace of mind.
• Confident in an investment strategy that's really rooted in logic and not emotion.
• Returns that are committed to capturing the market upside and avoiding downturns.
• "No conflict of interest" with a broker, advisor, or investments that pay advisors.
• Honest transparency.
• An advisor you can trust—one who is backed by a FINRA BrokerCheck background report.

What can you do to assure you are on the right pathway for the future? Download a free version of my updated version of the Liberated Investor and then schedule  a free 15-minute consultation with me. 

The following is a weekly update from Wealth Enhancement & Preservation.

Despite strong corporate earnings, stock prices closed lower after a volatile week of trading triggered by unprecedented activity in a handful of companies.The Dow Jones Industrial Average lost 3.27%, while the Standard & Poor's 500 fell 3.31%. The Nasdaq Composite index dropped 3.49% for the week. The MSCI EAFE index, which tracks developed overseas stock markets, slipped 1.83%.1,2,3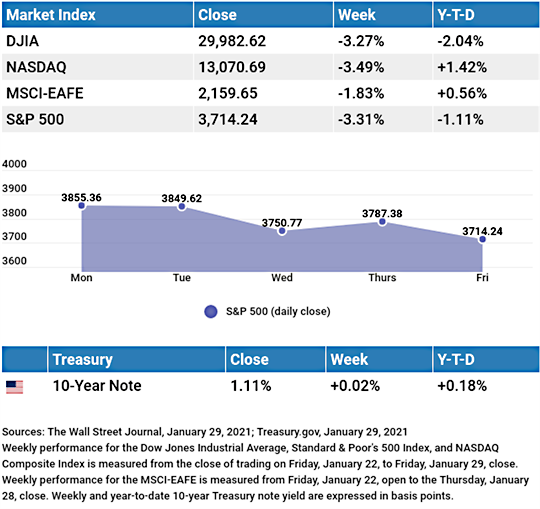 Bull Market Takes a Breather
On Monday, the S&P 500 and NASDAQ Composite overcame early losses to post new all-time highs.4
Stocks rode a roller coaster on Wednesday, falling sharply despite above-consensus earnings results, only to come roaring back the following day. Stocks suffered another broad retreat on Friday, sending the major indices to their worst weekly performance since October.4,5
Earnings continued to surprise to the upside, with 81% of companies in the S&P 500 that reported results by last Thursday morning exceeding analysts' expectations.6
Shorts Come Into Focus
The ability of social media to stoke passions and provide a catalyst to herd behavior made itself evident on Wall Street last week.
A chat forum became the central hub for motivating individual investors to trade certain stocks with large short positions. This unexpected buying activity roiled markets and fueled a sharp rise in their stock prices. The sudden surge higher forced some fund managers to buy stocks in these companies at higher prices, resulting in substantial losses for the firms.
It's difficult to say whether this social media phenomenon has long-term implications, though it is likely to change how professional investors evaluate trading strategies in the future.

In order to sell short, you are required to open a margin account. Selling short is not suitable for all investors. Margin trading entails greater risk, including the risk of unlimited losses in a position and incurrence of margin interest debt. You should consider your financial situation and risk tolerance before trading on margin.
This Week: Key Economic Data
Monday: Institute for Supply Management (ISM) Manufacturing Index.
Wednesday: Automated Data Processing (ADP) Employment Report. Institute for Supply Management (ISM) Services Index.
Thursday: Jobless Claims. Factory Orders.
Friday: Employment Situation Report.
Source: Econoday, January 29, 2021
The Econoday economic calendar lists upcoming U.S. economic data releases (including key economic indicators), Federal Reserve policy meetings, and speaking engagements of Federal Reserve officials. The content is developed from sources believed to be providing accurate information. The forecasts or forward-looking statements are based on assumptions and may not materialize. The forecasts also are subject to revision.
This Week: Companies Reporting Earnings
Monday: Thermo Fisher Scientific, Inc. (TMO).
Tuesday: Amazon.com (AMZN), Alibaba Group (BABA), Alphabet, Inc. (GOOG), ExxonMobil (XOM), Pfizer (PFE), Amgen (AMGN), United Parcel Service, Inc. (UPS), Electronic Arts (EA), Emerson Electric (EMR), Chipotle Mexican Grill (CMG).
Wednesday: Abbvie (ABBV), Qualcomm (QCOM), PayPal Holdings (PYPL), GlaxoSmithKline (GSK).
Thursday: Ford Motor Company (F), Bristol Myers Squibb (BMY), Merck (MRK), Snap, Inc. (SNAP), Prudential Financial (PRU), Air Products and Chemicals, Inc. (APD), Penn National Gaming (PENN).
Friday: Regeneron Pharmaceuticals, Inc. (REGN), Illinois Tool Works, Inc. (ITW).

Source: Zacks, January 29, 2021
Companies mentioned are for informational purposes only. It should not be considered a solicitation for the purchase or sale of the securities. Investing involves risks, and investment decisions should be based on your own goals, time horizon, and tolerance for risk. The return and principal value of investments will fluctuate as market conditions change. When sold, investments may be worth more or less than their original cost. Companies may reschedule when they report earnings without notice.
1. The Wall Street Journal, January 29, 2021
2. The Wall Street Journal, January 29, 2021
3. The Wall Street Journal, January 29, 2021
4. The Wall Street Journal, January 25, 2021
5. CNBC, January 29, 2021
6. The Wall Street Journal, January, 28, 2021